LARS ROLFSTED MORTENSEN. IN SEARCH OF HABITAT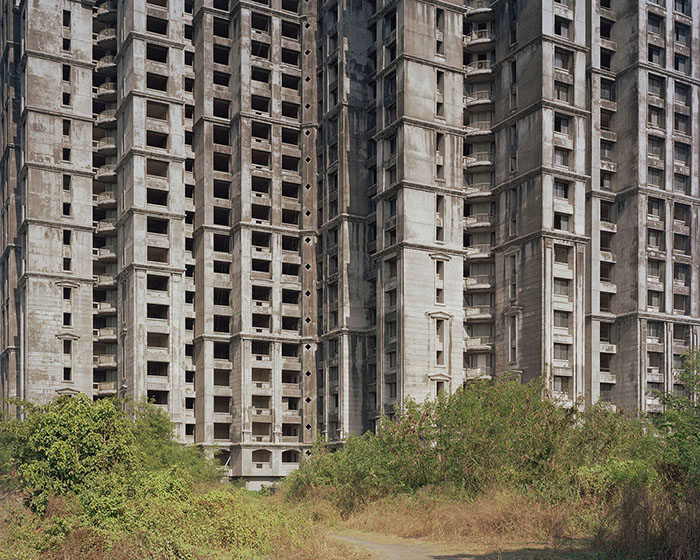 © Lars Rolfsted Mortensen, Dahisar, Mumbai, India, from the series 'In Search of Habitat'

Firstly can you quickly introduce yourself, how did you get into photography? What are your early memories of photography?
Lars Mortensen (LM): I'm an architect and I have been working intensely with photography for the last ten years. I recently acquired a PhD in architecture, which is heavily involved with photography and the intersection between buildings and images. I photographed a little and learned some basic darkroom technique during my teenage years, but I would say that the turning point for me was ten years ago. My interest in photography spurred from architecture in the sense that I discovered photography's capacity to depict and represent architecture and urban environments. To begin with it was mainly through Sze Tsung Leong's, Micheal Wolf's and Greg Girard's work in China. They depicted urban environments, architectural typologies and – inherently – notions on history and space that I had been missing in my architectural education. So, it was an obvious go-to source for addressing my curiosity of the spaces of rapidly growing metropolitan areas. It was first later on I realised that, despite their differences, Leong, Wolf and Girard were part of a much larger photographic tradition, which I repeatedly come back to for inspiration.
Let's talk about your education. How your degree and Phd studies affected your path?
LM: Well, I'm severely affected by my background in architecture. As it is probably obvious from my images, I am far more concerned with space, figure and scale than, say, documentary. I'm more interested in depicting the physical framework of the city than the social realm itself. I usually photograph areas that are somewhat marginalised or overlooked. I have a deep interest in exploring, visually, how they can be perceived as beautiful, spatially potent or loaded with cultural meaning. This was also key concerns in my PhD thesis, where I look at younger industrial landscapes. They are among the most generic places imaginable. In my thesis, I discuss them as potential future heritage, which is a bit controversial. It revolves around the inherent paradox of the Danish welfare society's great historical and societal significance and its, comparatively, disregarded architecture and physical surroundings. I use photography to delve into this contradiction and search for potential new readings and uncover a kind of beauty and meaning in these places. I had a great privilege to be allowed to merge academia and photography within the realm of architecture. And I can already feel that this approach will affect my future work.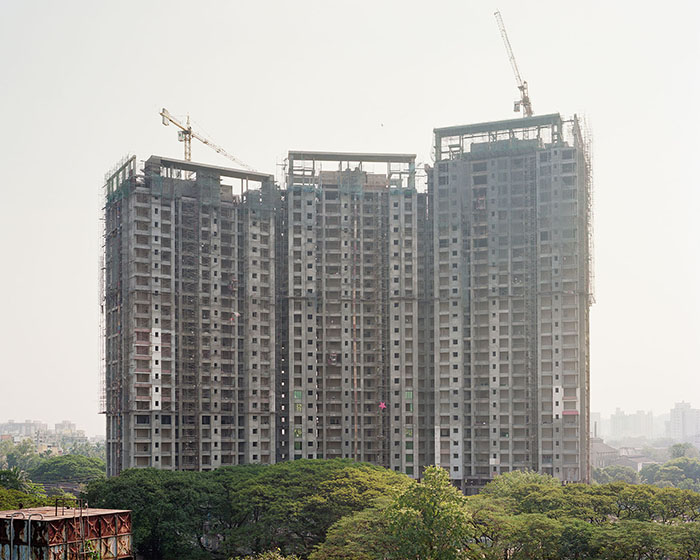 © Lars Rolfsted Mortensen, Kanjurmarg, Mumbai, India, from the series 'In Search of Habitat'

'In search of a Habitat' is so far your main body of work. The New Topographics school is its strong dialectic reference. What led you to develop this project? Why did you choose the Indian "megalapolies" to highlight some essential features of modern urbanism?
LM: The project itself and its final outcome as a book has been quite a journey for me, both personally and photographically. By that, I mean that the core of the project was a very open – and somewhat premature – idea about exploring the fringes of cities, the places where the cities are expanding and clashing with existing landscapes. This idea was born after travelling for longer periods in China witnessing rapid urbanization. I wanted to see, whether rapid Indian urbanization was similar. As with China, India has a deep cultural history and is currently going through a rupture that is greatly transforming its cities. In that regard, the fundamental interest in 'the new city' materializing in the east is very analogous to the starting point of many of the New Topographic photographers in the post-war decades in the US. However, I wasn't particularly aware of that when I went to India. I was much more into Sze's 'History Images' and Bialobrzeski's 'Lost in Transition', both of which essentially deal with similar ideas as the New Topographics. To return to the personal significance of the project, there was quite a gap from travelling in India in 2010 to publishing the book in 2015. During that time, I evolved as a photographer and the majority of my PhD fellowship took place – all of which heightened my awareness, both aesthetically and theoretically. This essentially made the book more of a curatorial exercise for me, since I became increasingly detached from 'being there' and more involved with understanding and interpreting my own work as images rather that experiences. This process has been of great importance to me.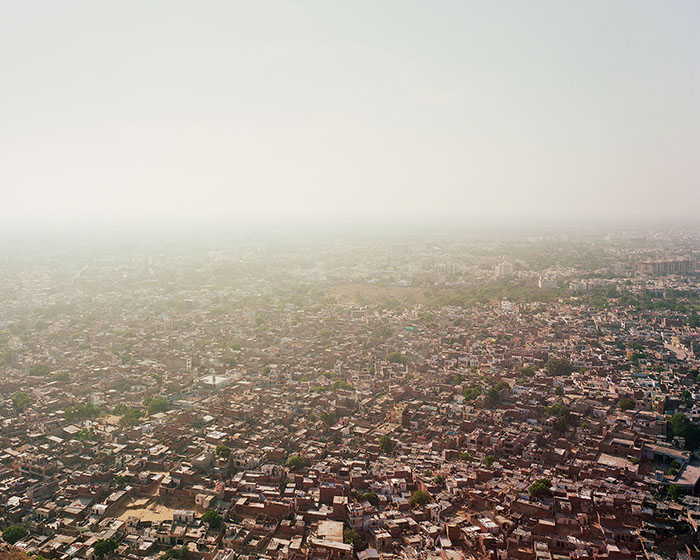 © Lars Rolfsted Mortensen, Nahari Ka Naka, Jaipur, India, from the series 'In Search of Habitat'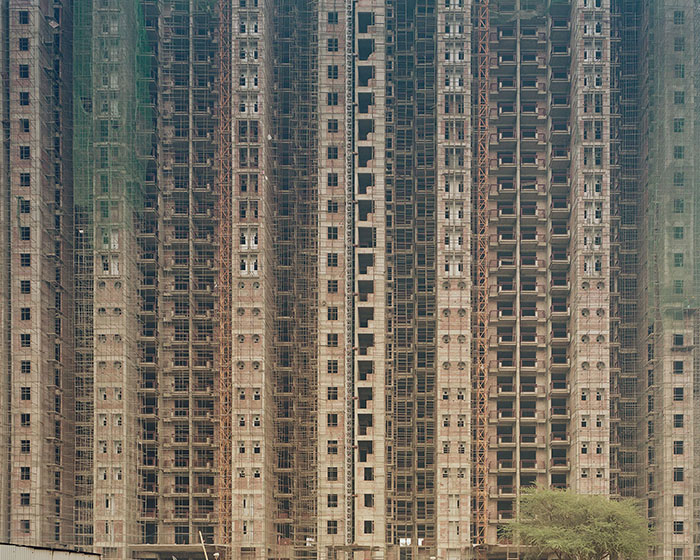 © Lars Rolfsted Mortensen, Golf Course Rd, Gurgaoni, India, from the series 'In Search of Habitat'

Generally speaking photography allows us to distinguish what is relevant from what is pointless. Can you briefly describe the method of investigation adopted for 'In search of a Habitat'. And what were the criteria that guided your selection?
LM: I think the overarching principle behind the selection of images has been to either single out a particular phenomenon, e.g. the urban village, the high-rise etc., or create a certain depiction, for instance the cover image's frontal composition. The book consists of 45 images and almost all of them belong to certain image categories – looking towards the horizon across a particular urban fabric, isolating geometric buildings, blocking out the frame with abstract façade patterns and so on. Together they form a visual narrative that allows for a certain degree of comparison between the different locations and phenomena. This is also where the dialogue with the book's essay becomes apparent. However, as I mentioned above, this conscious way of making the selection was something that evolved slowly while working on the book design and going through the 300+ images from the journey over and over again.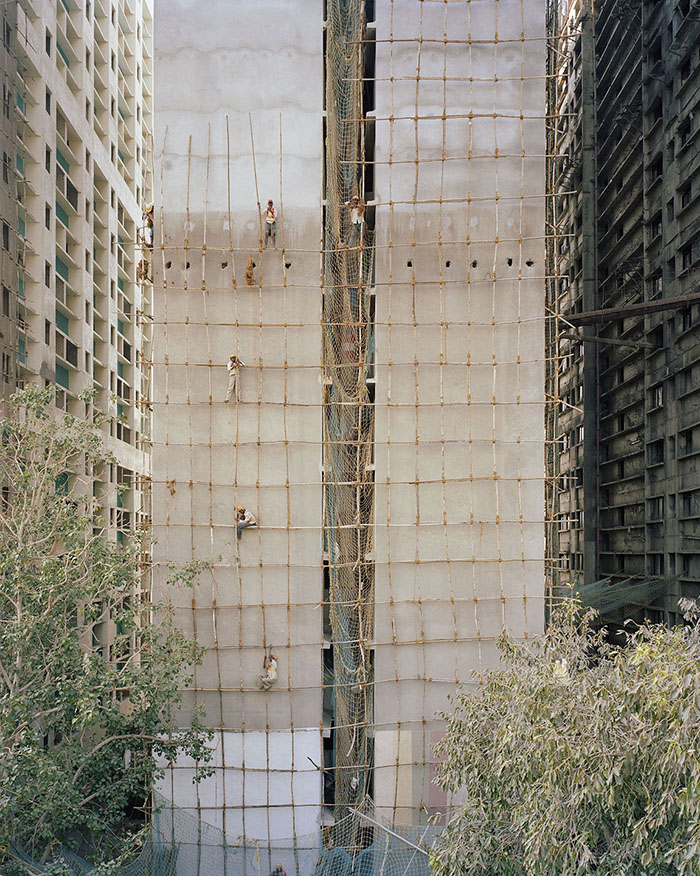 © Lars Rolfsted Mortensen, Mahalakshmi, Mumbai, India, from the series 'In Search of Habitat'

So far you have published three books. The first two are self-produced and the last one is made with The Velvet Cell, a publishing house that we keep following since its start. Can you tell us briefly these experiences? Are you satisfied with the results? Furthermore, what advice would you give to a young photographer determined to make a first publication?

LM: My first two self-published books have been very important to my own learning curve. Simply put, I needed to make books in order to understand how my work can be translated from a pool of images – largely viewed on screen – into a physical object that provides a visual narrative, a reading experience and a tactile presence. A lot changes from screen to paper. Personally, I could not do it without making dummies, lots of them actually, in all kinds of qualities from Xerox and glue to nicely bound copies. Dummies have been extremely helpful to test both format, sequence, font sizes and the general tactile experience of the book as an object – I guess that would be my advice: Make dummies and learn from them!
My slight experience in bookmaking became very important when In Search of Habitat took form, especially in my dialogue with Eanna from The Velvet Cell. I'm grateful for working with him and to publish with The Velvet Cell. His insights and experience guided the format of the book and its excellent binding and printing. Eanna and I have never met in person, so the entire process of choosing the right papers and deciding on the binding was made via mail and Skype. Quite a paradox, considering the physical and tactile qualities we discussed, but we have a couple of the same books on the shelf and that became a frame of reference through which we could approach a common understanding of the desired output. I feel very privileged to publish with TVC, both in terms of the high-quality printing, the other photographers releasing their work there (several of whom inspires me a lot) and the advice I received along the way from both Eanna, Peter Bialobrzeski and Wouter Stelwagen. So yes, I'm very satisfied with In Search of Habitat, and my two self-published books were necessary to get there.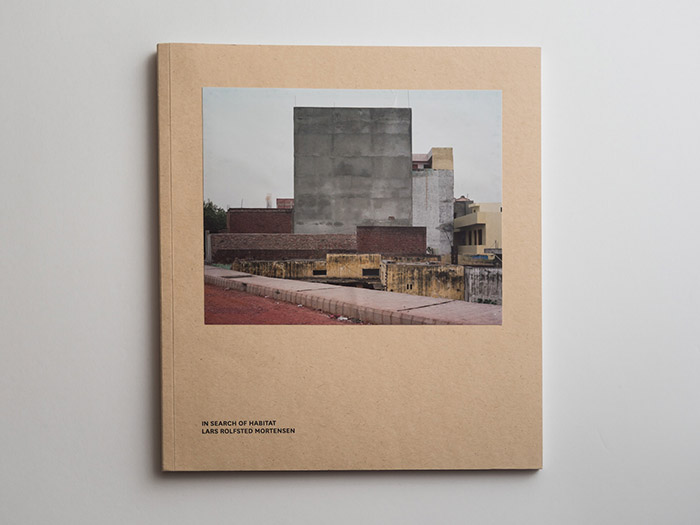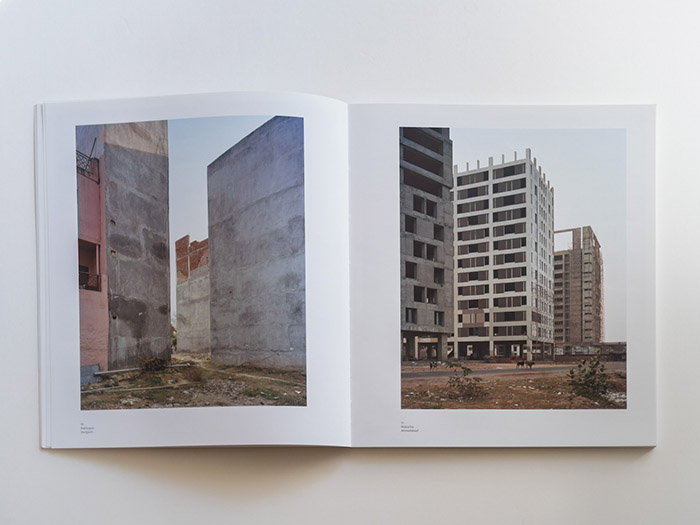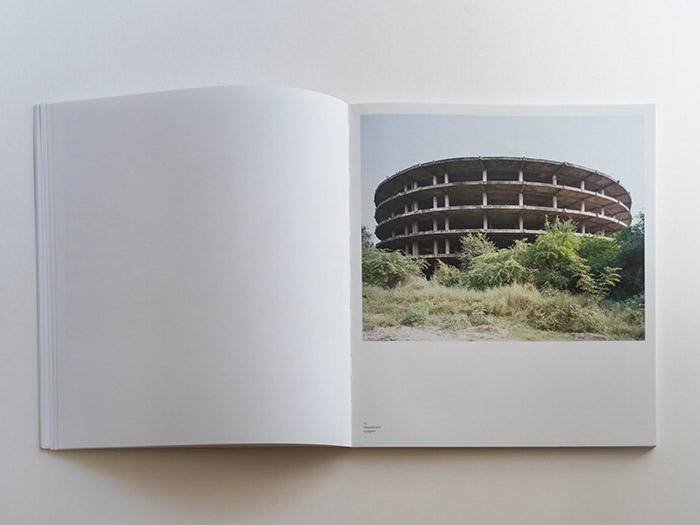 © Still images of the book 'In Search of Habitat' by Lars Rolfsted Mortensen, published by The Velvet Cell, 2015

Talking again about books. What readings would you recommend?
LM: There are a number of influential texts that shaped both In Search of Habitat and my PhD. First is British geographer Doreen Massey's essay 'A Global Sense of Place' that, to me, quite effortlessly nails a relational concept of place that is equally important to me in my day job as an architect as it is to me as a photographer and researcher. In that vein, I would also highly recommend Ananya Roy's eminent research articles on planning and urbanism in India. To a large extent her work made it possible for me to comprehend the Indian megacities and their 'inner mechanics', which I have tried to depict in In Search of Habitat. Regarding photography and the capacity of the image to reveal a new interpretation of the world, I can highly recommend art historian Dag Petersson's essay 'Photographic Space', published in the anthology 'Representational Machines'. The essay is made in collaboration with Walter Niedermayr and offers a potent concept of photographic space, a great reading of Gadamer's aesthetics plus a beautifully curated selection of Niedermayr's work. Last, but not least, I would strongly recommend Susanne Lange's comprehensive biography of Bernd & Hilla Becher. It is simply excellent and offers important insights into their thinking and meticulous way of working.
Have you recently seen an exhibition of photography that inspired you in some way? Why?
LM: … when you bring it up, I realize how long ago it is that I have seen a photography exhibition! But, I had the great pleasure of seeing 'Constructing Worlds' at the Barbican (London) two years ago. What struck me most was seeing Nadav Kander's and Hiroshi Sugimoto's prints in their real sizes. I love their work in books, but seeing the real thing gave a whole new perspective on their art and craft. Also, the exhibition gave me a proper introduction to Berenice Abbott and Luigi Ghirri, both of whom I knew too little of.
A brief reference to the Danish photography. How do you see the Danish scene in general? What are the most influential photographers at this time?
LM: I am only marginally in touch with the Danish scene. But although Danish photographers do not constitute my key inspirations, there are a number of highly interesting artist, e.g. Jesper Rasmussen's great work in 'Another Sense of Place', Christina Capetillo's 'Continuum' series, more or less anything by Nicolai Howalt (don't miss his '141 Boxers') and also Trine Søndergaard's work (not least her collaboration with Howalt on 'How to Hunt').
You live and work in Copenhagen. A city always ranking well for its quality of life, and for being bicycle friendly of course. Did you grow up in town or not? What do you particularly like about this city?
LM: I grew up in the suburbs of Copenhagen, but have been living here for close to twenty years now. I like the city a lot. It is continuously improving and the quality of life really is great. Some even find it to be too ordered and 'liveable' by now, where it is almost devoid of any grit. But after working in India I simply cannot see any legitimate argument in that regard – it is positively good that the city is so strictly planned and, because of that, a very democratic city (comparatively speaking).
'Along the wall, Above the sea' is a photographic series from your residency at the refuge of San Cataldo, Italy. What do you remember of that place and landscape? And why did you choose to release this work in black and white?
LM: The project was intended as an examination of the relationship between landscape and settlements. The Sorrentine peninsula rises almost vertically out of the Mediterranean and that simple fact renders the relationship between nature and manmade elements quite dramatic – the villages are either cramped in gorges or jutting from small mountain tops, roads and tunnels are winding through the mountains and the terraced lemon groves are spectacularly carved out of the rock face. Shooting in black and white was more of a pragmatic decision. At that time, I had only been shooting 4x5" for less than a year and was still learning the process. The project is shot on dirt cheap Fomapan and my plan was to develop the film during the residency, which more or less ruled out colour. Looking back, I think black and white proved to have some advantages to that particular project. For instance, it evens out some of the different lighting conditions that I was 'forced' to shoot under, due to the limited time I had there. Similarly, B/W removes focus from the region's very romantic colours and, instead, emphasizes forms and textures.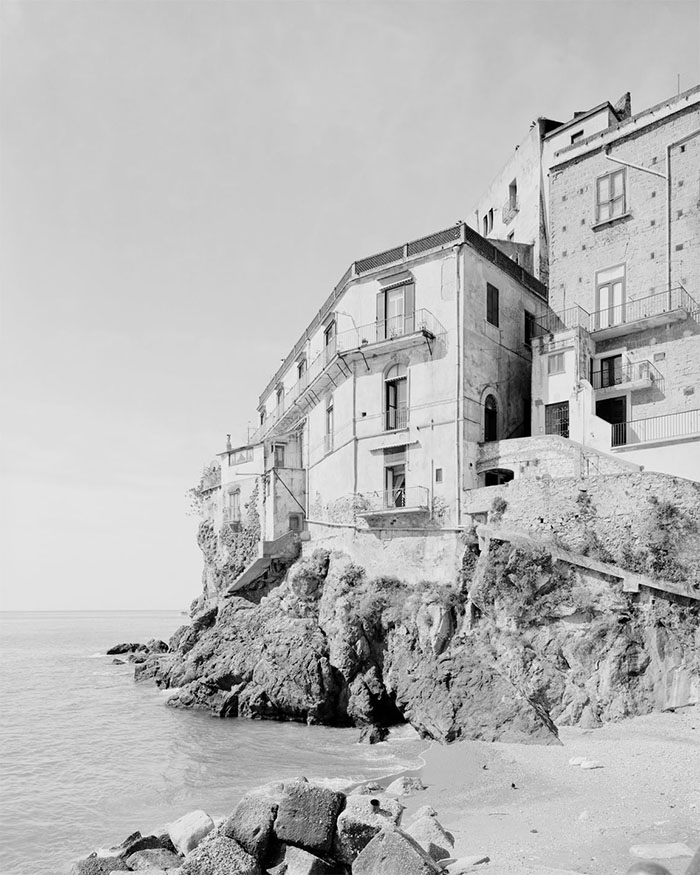 © Lars Rolfsted Mortensen, Minori, Italy, from the series 'Along the wall, Above the sea'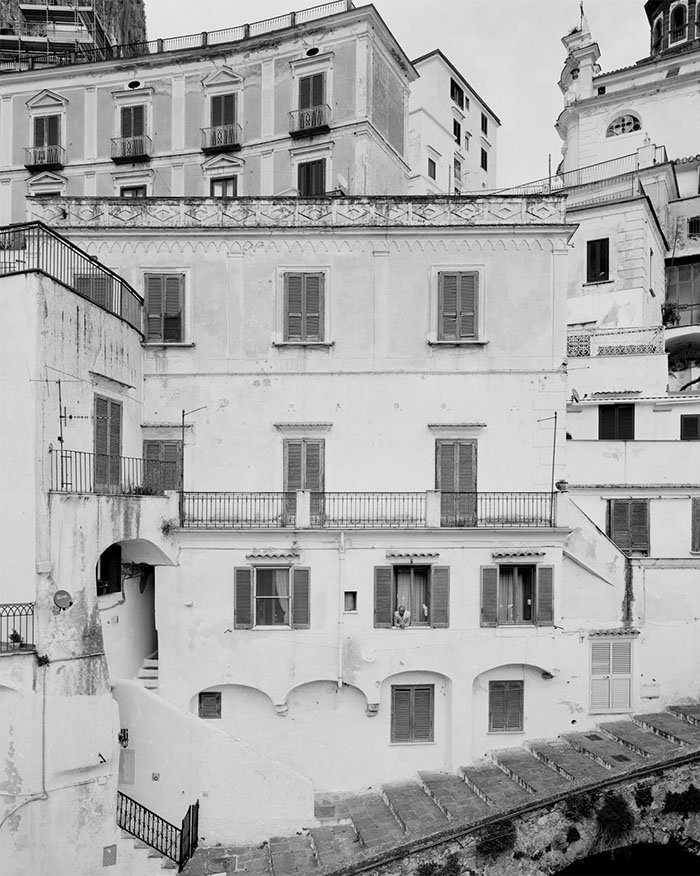 © Lars Rolfsted Mortensen, Atrani, Italy, from the series 'Along the wall, Above the sea'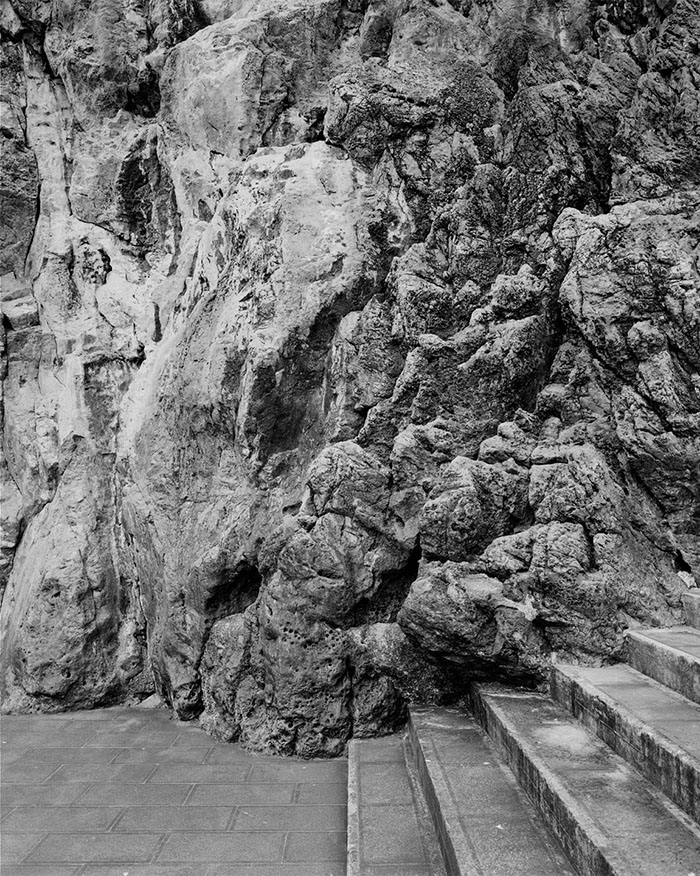 © Lars Rolfsted Mortensen, Atrani, Italy, from the series 'Along the wall, Above the sea'

Let's speak in general about photography. Today there is a great production from all points of view. How do this affect your own way of doing and, above all, think about photography?
LM: To be honest, I don't think much about neither speed nor the abundance of production. Working full time as an architect, I really cannot be fast with my own projects – they develop way too slowly at the moment. Actually, I find it a great privilege – as a photography 'consumer' – that I have easy access to seeing the work of so many talented artists. It is inspiring and it certainly keeps me on my toes! Another healthy aspect of this is that I'm keenly aware of the lack of originality in my own work. I really see myself as belonging to a genre of photography, where there has been produced so much work of such a high level of quality that it forces me to improve myself continuously. I guess the most important aspect of this – to me – is that it removes focus from novelty and, instead, towards quality. And that is what I'm interested in.
Finally what's up next? Will we see ever a work on your Danish landscapes?
LM: I have worked intensively in the Danish landscape – my entire PhD research is in Denmark and consists of hundreds of images. It was a healthy challenge to work 'home' without being infused with the rush of the new and the foreign. And it was certainly difficult. I'm still trying to raise funds to make an English and heavily foreshortened version of my thesis – don't know whether I will succeed, but hopefully I can make the work public in a not too distant future.
Apart from that, I have been working on a project with the working title 'Infra/Super/Structure' for several years now. To put it briefly, I look at the spaces and forms of infrastructure, from the interior spaces of gas holders, reservoirs, silos etc. to the expressive forms of flyovers, dams, high-bay storages and so on. I just came home last week from the Swiss Alps photographing huge dams – really breath-taking, overwhelming structures. I'm far from being the first to photograph these places, but I strive to give a somewhat new presentation of them. It's great fun, but it will be a couple of more years before the critical mass of images is there.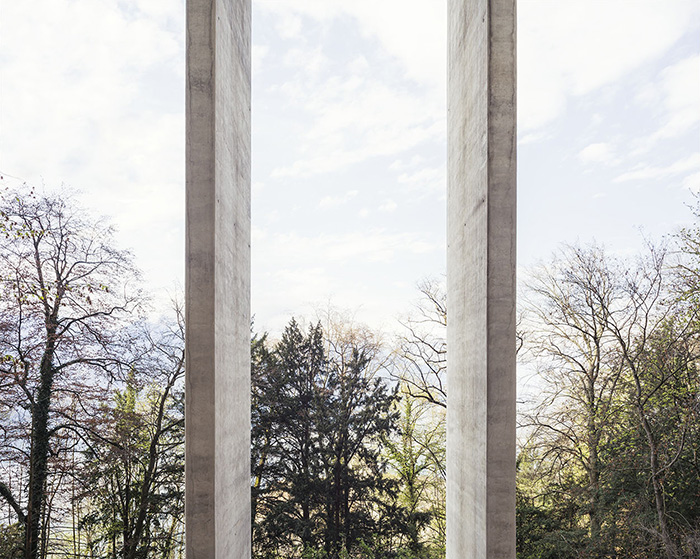 © Lars Rolfsted Mortensen, Montreaux, Switzerland, from the ongoing series 'Infra/Super/Structure'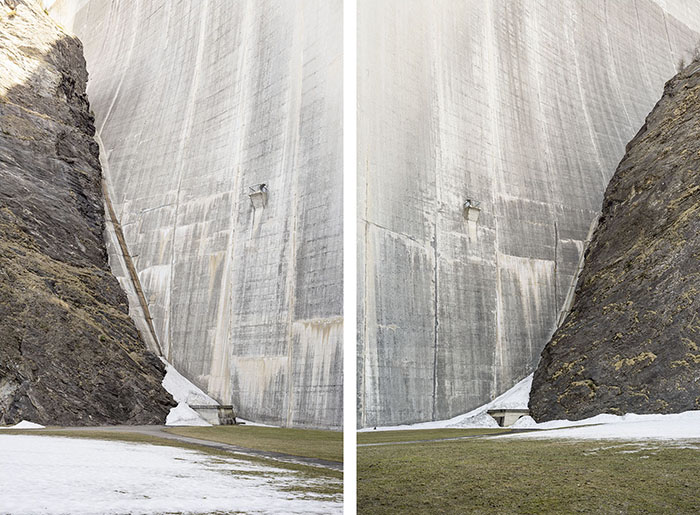 © Lars Rolfsted Mortensen, Luzzone, Switzerland, from the ongoing series 'Infra/Super/Structure'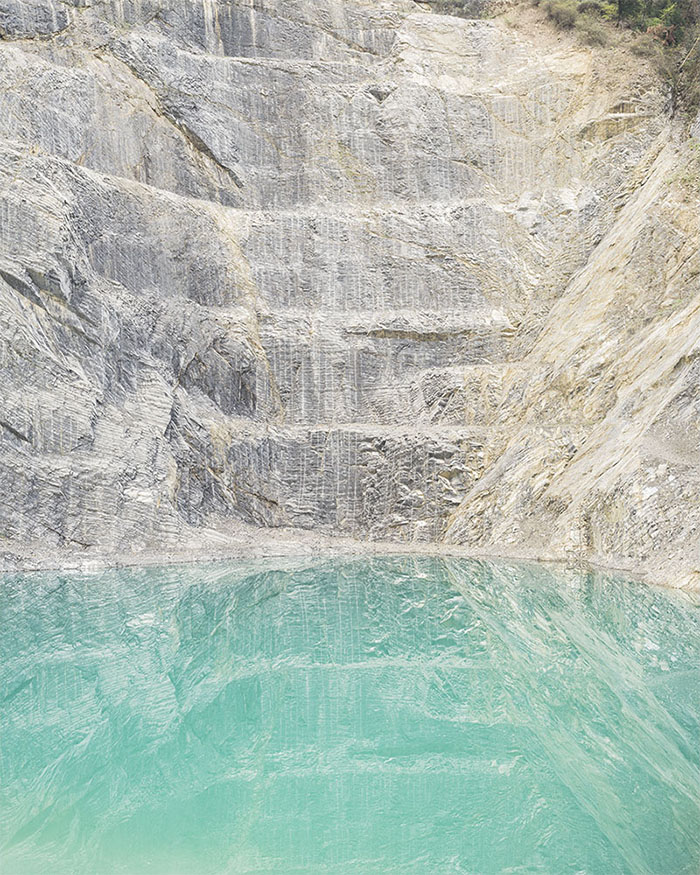 © Lars Rolfsted Mortensen, Quarry, Switzerland, from the ongoing series 'Infra/Super/Structure'

---


LINKS
Lars Rolfsted Mortensen
Book 'In Search of Habitat', The Velvet Cell, 2015