DAVE JORDANO. NOCTURNE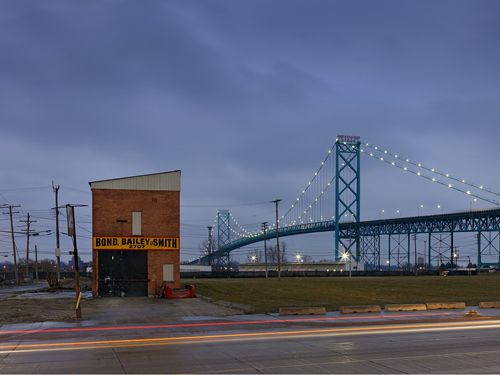 © Dave Jordano, Bond, Bailey & Smith 3, Detroit 2016

Dave you know I am big fan of your work. I have been following your recent daily features on your current night explorations of Detroit. In a previous interview with David Pollock, back in 2011, you spoke about you research in the city. An extraordinary documentary which was recognized later in 2015 with the Canadian AIMIA | AGO Photography Prize. At that time you said you were not very inclined to tell the post-industrial scenarios but rather the smaller neighborhoods, the cultural anthropology, that make up this city. What prompted you to explore this town again at night and how these new works relate/integrate with the rest of 'Detroit - Unbroken Down' project?
Dave Jordano (DJ): After working for five years on my previous project that involved documenting the daily lives of people struggling to survive in Detroit, I was searching for a new approach that didn't involve people directly, but still made a connection to the lives of those who still remain in what has become one of the most difficult cities to live in. The idea of making night photographs of existing commercial and residential structures that still maintain a presence in Detroit became the perfect segue for me that melded the notion of human involvement without actually putting people in the photographs. Detroit, while multi-faceted in its economic spectrum that ranges from DIY individuals with only a few dollars to spend to corporate entities with millions to invest, I've concentrated mainly on those establishments whose owners have committed themselves to their neighborhoods, some of them going back decades, bucking the system by surviving through economic decline, depopulation, and crime. With the onslaught of big box stores squeezing out more and more small independent shop owners who depend so much on their immediate neighborhoods to survive, I find it important to acknowledge their tenacity and conviction through photography. In many ways they're an essential component to holding neighborhoods together by providing services and goods, but from another aspect I see them as a dwindling commodity, a rarer and rarer spec on the the social map of marginalized urban areas. Another aspect of my recent night work looks at the entrepreneurial spirit of newly established medical marijuana dispensaries that have opened up in Detroit recently.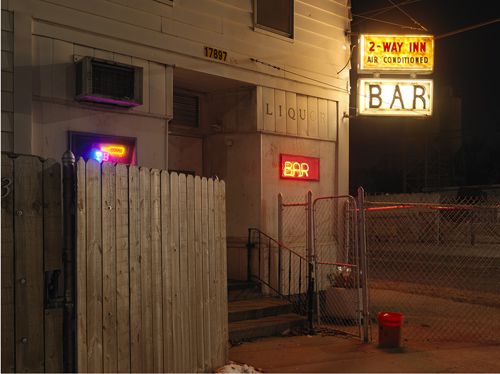 © Dave Jordano, 2-Way Inn Bar, Detroit 2016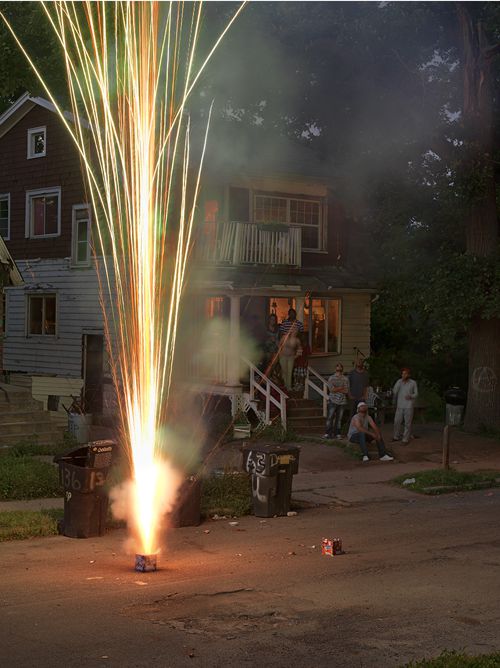 © Dave Jordano, Fireworks on Goldengate St. 2, Detroit 2014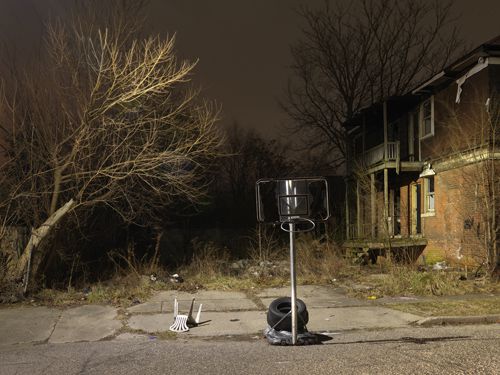 © Dave Jordano, Basketball Hoop, Eastside, Detroit 2016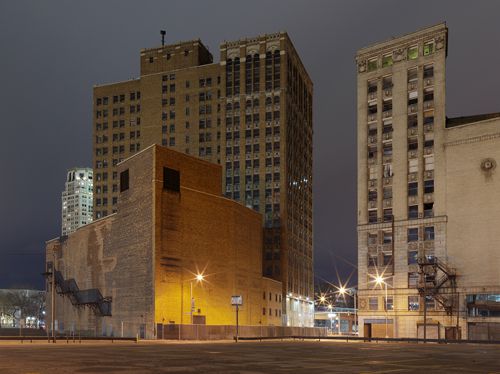 © Dave Jordano, Darkened Buildings 2, Detroit 2016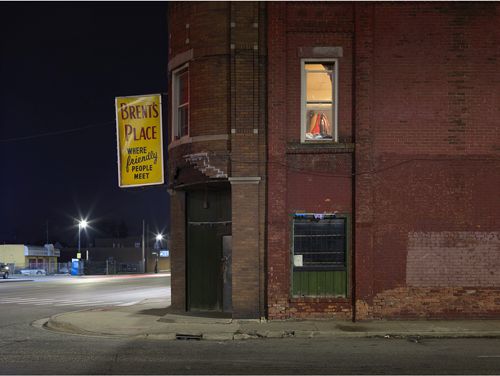 © Dave Jordano, Brent's Place, Michigan Ave., Westside, Detroit 2016
A part of your ongoing research has focused specifically on marijuana dispensaries that have grown in the city after 2008 Michigan Medical Marijuana Act. Your statement regarding this series well describe the legal dispute focused on reducing the number of activities quickly arisen as a result of the new course laid out by the Obama administration. I find these photographs very effective because they show the specific gravity of the phenomenon, without, as you say, showing individuals, people. Consequently they raise questions about contradictory policies and repression methods. Beyond this it seems that your previous answer addresses the more general issue about economic disparities, the gap between riches and poors. Detroit probably is a city in which these gaps are manifested more physically. How these situations are geo-referenced in the city. For example, where are these dispensaries located? And is there a sort of economic redemption behind these new activities?

DJ: First let me say that Michigan has the highest number of registered marijuana user in the country. In Macomb, Oakland, and Wayne counties alone, which include Detroit, the number of registered users has doubled in the last year to over 60,000. Many of the surrounding suburban counties will not allow dispensaries to operate which leaves Detroit as the main player in all of this. Subsequently, the majority of dispensaries in Detroit are located on or the near the border of outlying suburban cities. This is because most suburbanites still don't feel comfortable about venturing into the city proper and prefer a quick "get-in and get-out" approach to their business. Other dispensaries within the city are located in well-lit, well-populated areas and are usually located on Detroit's main thoroughfares. As you might imagine, the attraction of would-be thieves attempting to rob these establishments is a high priority so many have laid out sizable amounts of cash to install roller doors, cyclone fences, outdoor lighting, alarm systems, security cameras and even hire 24 hour security guards. Additionally the city has just enacted new legislation that severely limits the location of where these dispensaries can be located, which will force about 50% of them to close their doors within the next year. They've also imposed an annual $4,000 license and inspection fee per owner causing even more dispensaries to eventually drop out. It remains to be seen as to whether or not anyone besides the city will make any money on this. The majority of these dispensaries are made up of small collectives of caregivers who grow and distribute their marijuana amongst each other, providing meds only to legal card carrying patients. Due to the rapid proliferation and possible quick demise of this movement, my interest has been to document the colorful and "cultural" references that so many of these dispensaries harkens to. Names like The Reef, Puff Detroit, The Green Mile, Rasta Remedies, and Kush Mart are but a few of the names that draw comparisons to the early decade of the 60's hippie movement. Interestingly, many of the patients who are members of these establishments are older men. Eventually all the regulation and imposed taxes will push out all but a few well financed dispensaries and this quirky, independent, sub-cultural movement will become a thing of the past. I want the work I'm doing to preserve some of the uniqueness of the entrepreneurial spirit that's been driving this.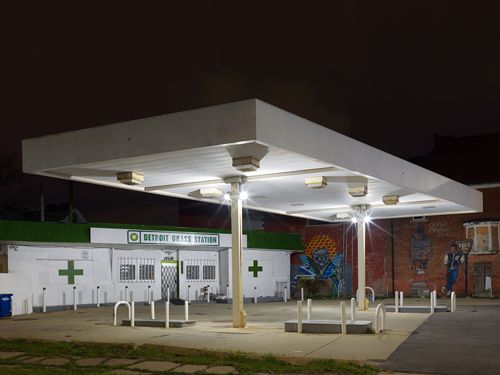 © Dave Jordano, Medical Marijuana Dispensary 26, Eastside, Detroit 2016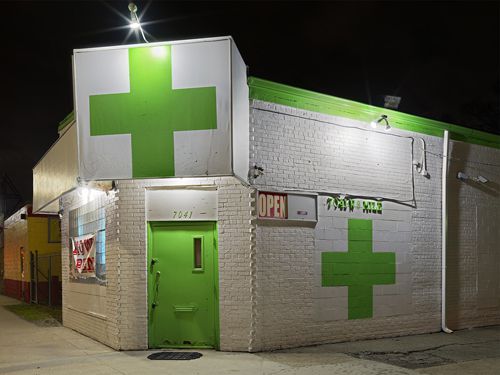 © Dave Jordano, Medical Marijuana Dispensary, Woodward Ave., Detroit 2016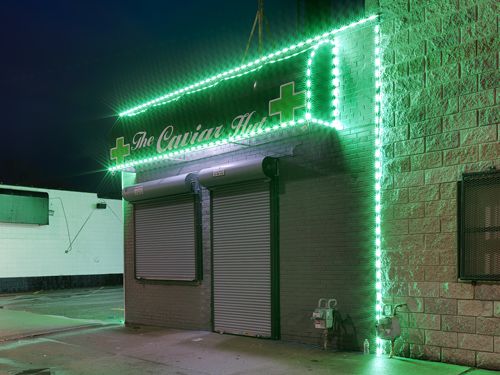 © Dave Jordano, Medical Marijuana Dispensary 52, Westside, Detroit 2016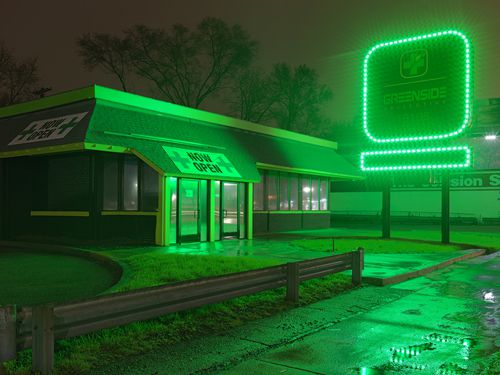 © Dave Jordano, Medical Marijuana Dispensary 03, Westside, Detroit 2016

'Unbroken Down' is a long-term research. I'm curious to know if there have been moments of confrontation or disclosure with the community and in what form?
DJ: No, I have never felt threatened or had an unfavorable experience in the entire six years that I've been photographing in Detroit, and I've spent most of my time in some of the worst neighborhoods you could imagine. On the contrary, everyone I've met has been kind and gracious to me by welcoming me into their lives and their neighborhoods. I get asked this question a lot and I always respond with the same remark, and that's that "Detroiter's are some of the most loyal people I know who love their city and are proud of where they live". I think the perception is that most people think that Detroit is a dangerous place. A place to avoid instead of being attracted to. I live in Chicago where gun violence is worse than it is in Detroit, but you don't equate Chicago with being a dangerous place. Again, perception. There is currently a shift in certain areas of Detroit, particularly the downtown business district where millennial's are moving into. This area has made a complete turn-around in just the last couple of years where vacancy rates are now at 2% and rents have nearly tripled. I never spent much time in this area for the very reason that the demographics were not representative of the overall population, which is still predominately lower-income black, latino, and white families. Certainly Detroit's reputation has been tarnished over the years for many obvious reasons, but now everyone is rallying around it as it tries to emerge from bankruptcy. Yes, there are good things happening there, but it's only a small piece of the overall picture. The majority of the city still continues to struggle, and you can't really save a city by building another giant sports arena.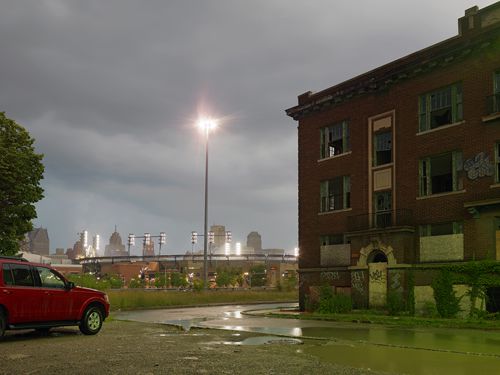 © Dave Jordano, Comerica Park, Detroit 2011

In the series 'The darkness in the Light' you have portrayed the same women in different years. I like this attempt to give voice to these silent victims and the way you choose to portray them…

DJ: This was the most difficult project I've ever worked on. To see these women trapped in the cycle of addiction and having to resort to prostitution to support their habit was one of the hardest things for me to confront. I would ask these women if they wouldn't prefer receiving some kind of help but most refused saying that going through withdrawal and getting "dope sick" was far worse of an outcome than taking the drugs themselves. The over-riding concept of the work was to bring awareness to the problem by portraying them as seemingly normal people, women who the viewer would feel comfortable looking at, much like a friend or relative, but in reality someone who was suffering from the most terrible condition you could imagine. Hoping that the viewer would make some kind of connection and feel a sense of empathy was what I was trying to accomplish. These women, who are mostly white, proliferate Detroit because the drugs they seek are easy to get and the police who are laxed in their attempts to arrest them see it as a low priority. Unfortunately until the drugs can be eliminated this cycle will continue.

© Dave Jordano, Carrie, Detroit 2013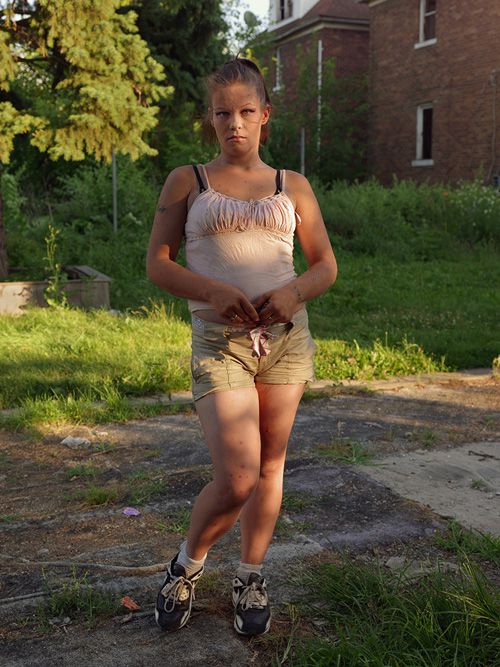 © Dave Jordano, Crystal (Baby), Detroit 2010

I am sure that 'Unbroken Down' project have highlighted several aspects of the ongoing transformations in the city of Detroit. The 'Ruralization of Detroit' series addresses an intriguing question that in recent years has attracted scholars as well as tourists and curious people to the city: the green urban regeneration. The 'Detropia' documentary (2012) tells us, as well as other surveys, controversial aspects of this matter. If for many Detroit is the gym of a bottom up model of development, others are not convinced that by planting vegetables in vacant lots you can lift the economy of an entire metropolitan area. I think your works show how photography can help to better focus on urban changes and to appreciate the qualities and sometimes the beauty of them. I wonder what are your plans for the future? I have the impression that Detroit is a sort of open section, and that it will always reserve some surprises...

DJ: The Ruralization photographs illustrate just how much of the city has emptied out and depopulated itself. All of these areas were once filled with thousands of houses, schools, storefronts, churches, restaurants, all supporting a thriving economic base. It's a regeneration of sorts, but not one of choice, but rather one of apathy and corporate dis-investment. The long-term citizens of Detroit have over the past several decades remapped, modified, and adapted their way of living to reflect the dwindling resources that plague a post-industrial city, but it will take much more than local neighborhood vegetable gardens to turn the city around. What's important is that the entire city somehow benefits from its rebirth and not just in the few select areas where all the wealth is concentrated. If that happens then I'm afraid we are in for some rougher times.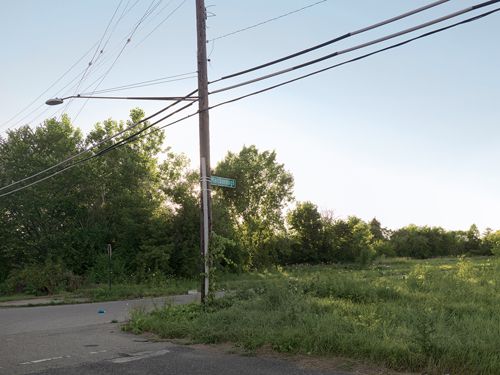 © Dave Jordano, Corner, Marlborough and Waveney 2, Eastside, Detroit 2015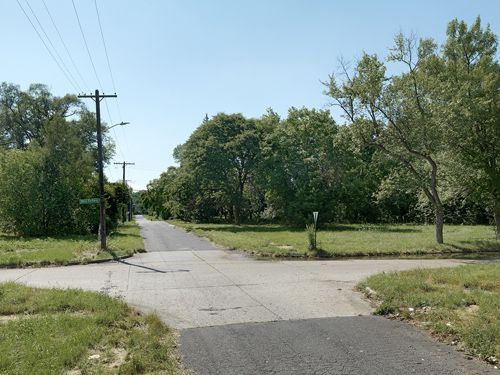 © Dave Jordano, Corner of West Parkway and Keeler, Detroit 2015

© Dave Jordano, Corner of Kirby and Canton, Detroit 2015