MICHAŁ IWANOWSKI. CLEAR OF PEOPLE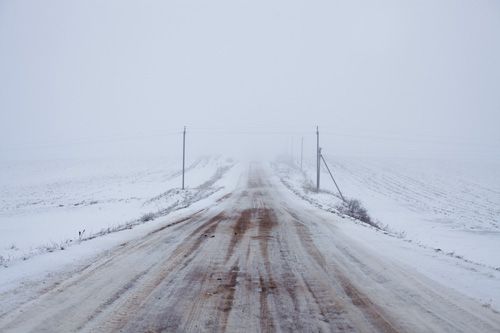 © Michał Iwanowski

To start with I would like to ask you, Michał, about your photographic identity. How has your photographic practice started? What kind of a photographer are you?
Michał Iwanowski (MI): I had been interested in making photographs as a teenager, but I only started studying it when I was a twenty-something and I came to the UK. I joined Ffotogallery in Cardiff, Wales, where I did my first training in 2003. I then signed up for the MFA course at the University of Wales and graduated in 2008. I would say I am a conceptual documentary photographer, in the broadest sense. It seems that landscape has been quite an important protagonist in my work, although I had never set out to be a landscape photographer. I am interested in people and their stories, in the personal rather than the global.
We have Tom Mrazauskas, a book designer, with us too. Could you, Tom, introduce yourself as well?
Tom Mrazauskas (TM):Sure. My book designer career started in one publisher in Vilnius in 2008. You can imagine books with complicated structure, hundreds of footnotes, illustrations, bibliographies, indexes, etc. It's a hard and interesting job to make them look good. A good place to grow muscles too.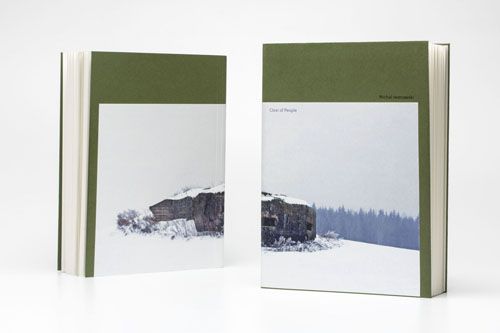 © Still of the book 'Clear of People' by Michał Iwanowski

One day I got to design a book on the history of Lithuanian photography during soviet time. It was a deeply academic work (384 pages, 124 images, 623 footnotes), well researched, well curated. It made me fall in love with photography and also the photography world noticed a humble book designer. Just a few months later Kaunas Gallery invited me to design a photobook. Later on we made several well-known publications together.
You, as a duo, are about to publish a book entitled 'Clear of People'. Michał Iwanowski produced the content, while Tom Mrazauskas designed the book. In fact, your Kickstarter campaign has just entered its decisive phase. Could you tell us what is this series about?
MI: In 1945, my grandfather and his brother braved an escape from a gulag and crossed over 2000 km, mostly on foot, from Russia to Poland. Seventy years later I went back to retrace their journey. This is what 'Clear of People' is based on. It's a project about the universal fugitive. About all those people who have had to, and who will yet have to, run away from prosecution and oppression. It's a project about their relationship with the landscape that often becomes the only witness to their struggle. Even though this work is based on a particular story, its premise is as wide as the landscape within the images.
TM: For me it reminds landscape, which I saw through the bus window traveling on the Vilnius–Berlin route. I took that road several times. It's quite a long time on the bus, so there is plenty of time to get bored and then it's time for the window. That window was my first thought then I saw Michal's images. But of course there is much more. What I like especially about Michal's work is that he does not imitate his grandfather's experience. Yes, the trip is based on family story, but he is looking around with his own eyes. I would say, he is a good listener and an authentic storyteller.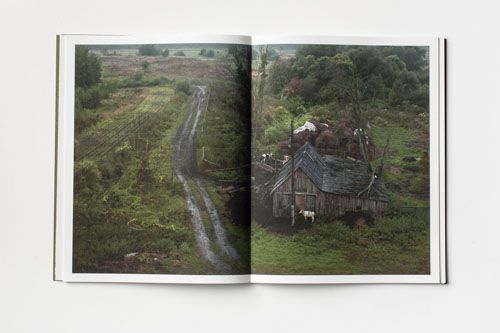 © Still of the book 'Clear of People' by Michał Iwanowski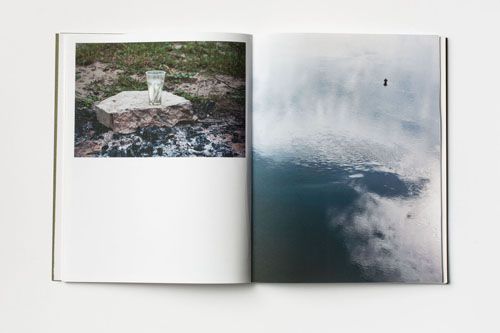 © Still of the book 'Clear of People' by Michał Iwanowski

Do you think this project is in some way up-to-date? Does it correspond with the migrations you have experienced yourself?
MI: Parts of the process are similar to my own experience. The fact that I am not living where I was born. Yet these are merely the consequences of my own decisions, so I am in no position to compare myself to my grandfather and his brother. They were running for their lives, in search of their family. What is interesting is that for them the idea of home was very clear - they knew exactly where home was. For me - the answer remains to be found. And in terms of the project being current and relevant - the fugitive journey has not changed at all throughout the history of mankind. Its execution has changed slightly, navigation is easier, but at the core of it, people are still running for their lives. Be it from political or social prosecution. In this sense, this project is relevant, and, unfortunately, is likely to remain so.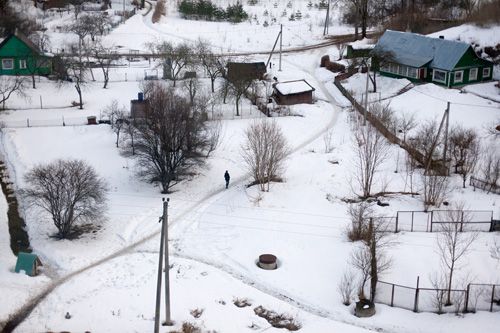 © Michał Iwanowski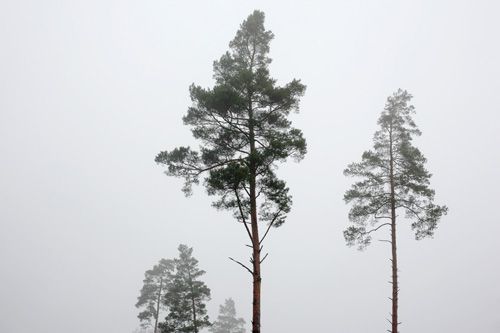 © Michał Iwanowski

You, Michał, walked alone. I find this act very important in terms of your own, personal experience. Do you feel the same? Was this act also important for the consistency of the project?
MI: Absolutely. The isolation they had experienced was crucial for me to relate to. I could not have tapped into this kind of process had I taken companions on the road with me. Apart from that, as many photographers, I am a solitary creature, and rather than being helpful, company of others is often a hindrance. It was very important also in terms of paying a tribute to my grandfather. I felt I owed him that. When he was alive, I had no deep interest in his story. And when I realised how important it was - he had already passed away. I needed to do that journey on my own, as a personal way of connecting. Even if that sounds a bit sentimental.

This book is meant to resemble a log-journal. Why is it important and how did you try to achieve that?
TM: First of all I think that book design is not just an impressive layout; it's more like engineering. A book designer is creating an object and this object should speak. It's a kind of a body language. For example, on an exhibition one can simple hang images on walls, but it's much more interesting to involve exhibition designer and to create spacial experience. Same with book design. We should speak about experience here.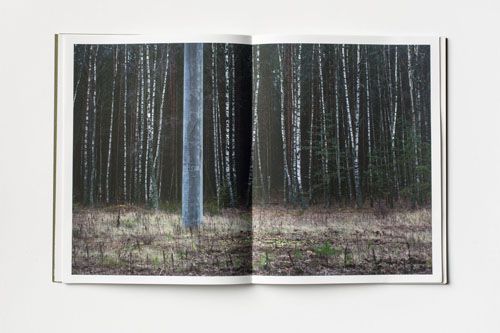 © Still of the book 'Clear of People' by Michał Iwanowski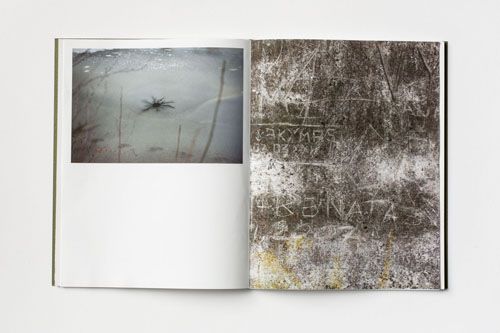 © Still of the book 'Clear of People' by Michał Iwanowski

Michał is based in Cardiff, while Tom lives in Berlin. How did you manage to create this book?
TM: We are chatting on Facebook like crazy. Sometimes we use Skype, but most of the discussions we made by texting and showing images to each other on Facebook.
MI: It's also an international affair. I first met Tom in Paris Photo a few years back, when he was designing the first book I was a part of ('Post-War Stories'). Then we met again in Tbilisi during their photo festival and that's when we started talking more seriously about this collaboration. And most recently Tom came to Wales for a few days and we managed to put the final touches to the sequence. But generally we spend a lot of time on Skype. It's great.

TM: Yep. After Tbilisi festival (or to be exact after my visit to Frankfurt Book Fair) I skyped with Michał with a collaboration proposal: let's develop the design and let's run it on Kickstarter, what you would say? He agreed instantly. To be honest, I was offering similar idea to some people before, but Michał is the first one to agree to run a project on Kickstarter. As you can see we have a really digital affair.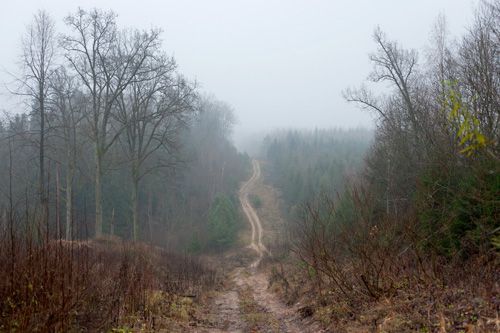 © Michał Iwanowski

Are you up to date with what is happening in Polish photography now? Could you point out interesting tendencies and/or names that one should follow?
MI: I am following a few platforms that keep me up to date, like Sputnik, WorkshopX, Fotoblogia or Fresh From Poland, to name but a few. There is a lot of brilliant work coming from Poland and I am very happy to see how inventive and original Polish photographers have been in recent years. There is an evident interest in archival materials, like in Pawel Szypulski's 'Greetings from Auschwitz,' but also quite a big surge in celebrating minorities and small communities, like in the brilliant 'Karczeby' by Adam Panczuk.
TM: Just to add, photobook publishing and art book fair is a growing field right now in Poland. I try to follow what is happening, because it's an interesting field as well. People are involved into think-out-of-box projects and they are quite visible internationally.
Any plans for the future regarding photography?
MI: It's all about the book for now. Collecting the money for the production, then publishing, and then the promotion. I have an exhibition of 'Clear of People' opening in Sydney in mid March, and then I'm showing it in Barcelona DocField Photography Festival in May, then it's Bristol Book Fair and Arles. I am trying not to think ahead further than 6 months to keep an illusion that time moves slower than it does. And next year I am starting my new project, which involves 8 countries and 2000 kilometres - I can't say too much yet, but I am ready to put those boots back on and just walk.
Clear of People — A photobook by Michal Iwanowski from Tipi Bookshop on Vimeo.

TM: 'Clear of People' is the first book I'm publishing and, of course, I would love to make more. There are some plans, but let's keep some secrets here. Secrets give pleasure – we were developing Michal's book in a stealth mode for several months and brought it out as a finished project. I like this moment, it keeps me motivated.

---

LINKS
Crowd Funding campaign (please support!)
Michał Iwanowski
Tom Mrazauskas
Brave Books
Poland