ANTONINA GUGAŁA. EXPLORING THEMES
Tola, who are you as a photographer? What interests you the most in this medium?
Antonina Gugała (AG): What fascinated me the most in this medium from the very beginning was the element of surprise involved in the process. I remember how as a kid, I was always impatient to see the results of my work and couldn't wait to pick them up from the photography store. The Polish word for develop, "wywołać" (to conjure) already had some magic in it. It was a bit like conjuring a ghost. I still use analogue cameras, so the excitement of the process remains there. Back then photography was a way of keeping things without taking them back home. Nowadays, I use photography as a tool to express my thoughts. It allows me to explore themes and issues that currently interest me, without having to resort to words. I also like that it's a very individual activity. No one can choose what is inside the frame for you. When I photograph, I am surprisingly assertive and honest with myself. This is something that doesn't come naturally to me in real life.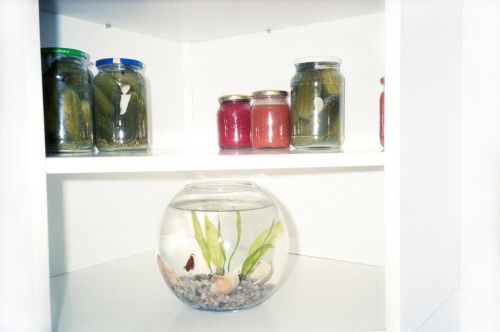 © Antonina Gugała from the series 'Animal Kingdom'
You are not a trained photographer, although you have spent some time at the Academy of Photography in Warsaw. You are just about to graduate from the University of Warsaw with a master's degree in psychology. Could you tell us how did your educational path influence your photography?
AG: The good thing about studying psychology is that you are constantly surrounded by psychologists. The people that taught me had a very open and constructive approach to their students. This was the perfect environment to nurture my interests in film and photography. After three years of studying psychology I was feeling confident enough to take a year off school and dedicate it entirely to photography. That's when I signed up for Academy of Photography. The course I attended was a mix of fascinating meetings with active photographers and art historians. I learned a lot during this year and it took me some time to digest this knowledge and put it into action. When I got back into psychology I was already a different person. I started using psychology for entirely new processes. For example, I used some study results from cognitive psychology when I was editing my first photobook.
In the description of one of your projects called "6x9" you write: "Edges define what's inside. 6x9 is a set of images I found on the edges of a city." Could you develop this relation and tell us, how did you approach this subject through photography?
AG: In "6x9" I wanted to explore the relationship between space and identity. I needed to identify and define the space that I was born in and had been living in for the biggest part of my life, Warsaw. As an environmental psychologist I am convinced that space has a deep influence on us. In a way by defining the space surrounding me, I was defining myself. The project was created during a 5 month long photography workshop that I attended between May and September 2012 - Migawki. This was my first attempt at conceiving a series of photographs. Before that I had been working spontaneously, without any further plans for the end results. This time, I had a deadline and a plan to fulfill. The plan was to take few photographs and think a lot about what I was doing in-between. While taking pictures for '6x9′ I walked kilometers around the rough edges of Warsaw. I only stopped when I saw something that was interesting enough to take out my bulky, folding Nettar camera and use up one of the 8 images that each medium format film would give me. And I must say that I really enjoyed this process. The limitations that I set out for myself in this project helped me deal with the selection process afterwards.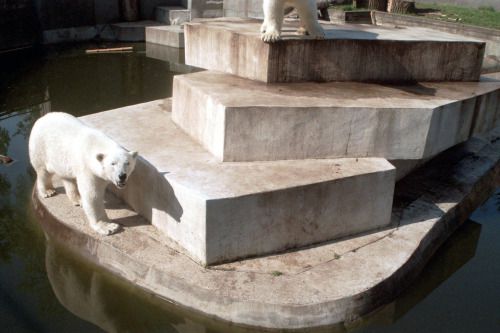 © Antonina Gugała from the series 'Animal Kingdom'
Your latest project entitled 'Animal Kingdom' depicts… animals in your everyday life. Could you tell us more about this project?
AG: 'Animal Kingdom' was a very interesting experience for me as a photographer. It started off as a typical documentary project. I was going to photograph the architecture of the Warsaw ZOO. I was fascinated by the way in which architecture, which I believe to be a strongly human centered domain, was used to attend the needs and wants of animals. Of course, most of these attempts were terribly unsuccessful or, in the best case, ridiculous, but it was quite fascinating to watch the results of people playing God's role. So at first I started working in my usual way – I got a yearly ticket to the Warsaw ZOO and I started walking. But something wasn't working, I was ready to abandon this project and then… there was John Berger and his essay 'How to look at Animals'. I suddenly realized that all this time I had been ignoring the most important subject – the animal. That was when the project turned into a cultural research and suddenly the photographs I had taken in the ZOO became useless. After months of reading about animals and their place in contemporary culture, I came to the conclusion that the only thing that I could be certain of is that the animality we are dealing with is the human construction of animality. That's when I decided to go back to my photo archives and analyze, which animals and in which way I had photographed in the past. My intention was to analyze the way in which animals are depicted in everyday photography. I think that this can give you a notion of what the relationship between "human" and "animal" is.
Video of the photobook 'Animal Kingdom′
In fact, both '6x9′ and 'Animal Kingdom' were published as photobooks. The "6x9" book was even shortlisted for the UNSEEN Dummy Award in 2013. You seem to find yourself quite comfortable within this medium. Do you prefer it over an exhibition? What possibilities does it give you that an exhibition doesn't?
AG: The decision to make 6x9 into a photobook was quite egoistic. I wanted to make something that would last. I didn't feel that the exhibition of yet another "young and talented" wannabe photographer would make a change. By making a book I wouldn't be left with empty hands, literally. I was also inspired by a talk given by Paweł Szypulski, a photobook addict and visual artist, who visited our workshops to share his view on photography and show his massive collection of photobooks. I was immediately drawn to all of these beautiful publications. Before this my experience with photobooks had been close to none. When I set out to make my first photobook, I had an intuition of what the size of the object and the size of the pictures inside should be. I wanted the book to be comfortable to hold in your hands, I wanted it to be minimalistic in form but rich content wise. I wanted quite a few things, and I have no idea where all of these wants came from, but I remember that I was rather assertive about it. Being selected for the UNSEEN Dummy Shortlist was a great surprise for me and it wouldn't have been possible without the collaboration that I started with Michał Kożurno - the designer of the book
Video of the photobook '6x9′
Michał Kożurno is an important person in your creative activity. You usually work on your books with him as a graphic designer. Could you tell us more about this process?
AG: Michał Kożurno is a longtime friend of mine. When I was working on 6x9, I read a text by Jorg Colberg on mistakes often made by photographers who set out to make their photobooks. One of the comments that stuck with me was that you should trust other people to help you with things that you know little about. Colberg's text was very encouraging on the subject of collaboration. I'm a very controlling person, so this was a difficult decision to make, but I decided to give it a try. I contacted the only friend that I could possibly think of in terms of making books – Michał. Back then Michał was a leather and paper conservation student at the Academy of Fine Arts in Warsaw. He knew more about paper and glue than any other of my friends and I knew I could trust him. In the beginning the plan was that I would provide the content for the book and Michał would figure out the form for it. He made a point of keeping the right balance between the different elements of the publication, my photographic concept had to resonate in the form of the book. As we quickly found out, it was impossible to separate these two roles, so during the process we were constantly in dialogue, making suggestions to one another. Looking back, I feel that I was very lucky to have listened to this piece of advice from Mr. Colberg. We differ in many ways with Michał and I think that this makes our work more interesting.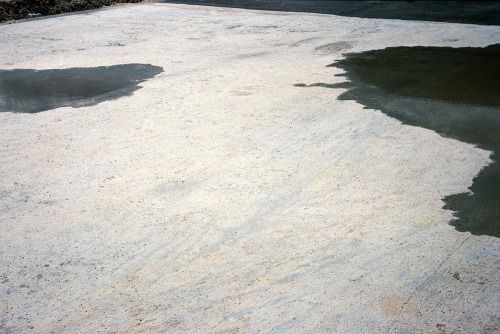 © Antonina Gugała from the series '6x9
What do you like to look at? Could you list some photographers or bookmakers that inspire you?
AG: I try to look at as many things as possible, but I don't think that there is one particular way of photographing that inspires me. My work is very intuitive and has not changed much since I first started taking pictures, so any kind of inspiration is always unconscious. For example, I remember that when I first started reading about photography and discovered William Eggleston, I was in genuine shock (sic!) of how similar my photographic interests were. I had been drawing inspiration from his work without knowing it. The only way of explaining this is through film. Before getting into photography, I had been deeply interested in film. All of my favorite filmmakers, Jim Jarmusch, Tony Gatlif, Harmony Korine, Larry Clark, have a very strong visual style. When I started studying photography I realized how strong its connection with the cinema world was. I still watch a lot of films, but I guess that my main source of inspiration now is my environment.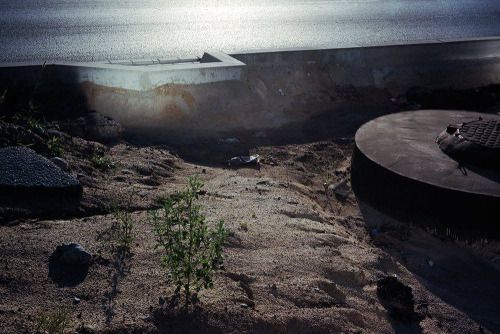 © Antonina Gugała from the series '6x9
Could you comment on the Polish photography scene?
AG: I feel that photography is in a good spot in Poland right now. Many interesting events are taking place around photography and they gather big crowds every time. New, interesting names seem to be popping up everywhere. Of course, we also have to deal with the problem of overabundance of images here, but there are new "filters" being created everyday to solve this problem. New magazines, galleries and art institutions seem to be doing a good job at processing all of this content and curating it. Two visual artists whose work I admire are Aneta Grzeszykowska and Karol Radziszewski.
Are you working on anything new now? Do you have any plans for the near future connected with photography?
AG: I am working on the concept of a new series. This time my thoughts are focused around the subject of body, gender and consumerism. Hopefully I will be able to find the right balance between the visual and theoretical side of this project. A lot has already been said on this subject in photography, but I hope to find a new set of images to illustrate the relationship between these elements. I am also excited about the perspective of taking up further education in photography, hopefully beginning next year.

---

LINKS
Antonina Gugała
Poland